President's Message
OAT Agrio was established in 2010 following a divestiture from Otsuka Chemical Co., Ltd. by using a management buyout. Since then the company has grown steadily and now is listed on the First Scetion of Tokyo Stock Exchange.

The world is facing a severe food crisis. Food production must increase in order to feed the world's steadily growing population. The U.N. Food and Agriculture Organization has stated that global food production will have to increase 70% between now and 2050. I believe that helping solve problems involving the food supply today and in the future is the primary mission of the OAT Agrio Group. Our group has gained much expertise from the development, manufacture and sale of agricultural chemicals, fertilizers, our exclusive cultivation system and other products. In conjunction with these activities, we have also been involved in the development of a broad array of technologies for increasing food production (agritechnology) by boosting crop yields. These technologies and other knowledge give us a foundation for increasing the pace of developing new technologies for food supply growth.

Our group encompasses a diverse range of businesses that are centered on three core technologies: plant protection product (chemicals for plants); fertilizers & drip irrigation (nutrients for plants); and biostimulant (increasing plants' immunity to diseases). In Japan, our operations create benefits for the agricultural workers as well as the public. We are serving customers in other countries, too. Through these activities, we plan to continue enlarging our business domains.

"Contributing to the people of the world with our agritechnology and honesty" is the philosophy of the OAT Agrio Group. We have a strong commitment to contributing in any way possible to solving problems involving the global food shortage. At the same time, we will strive to increase corporate value in order to fulfill our responsibility as a publicly owned company.
President CEO, Hisashi Oka
Corporate Governance
Fundamental Policy for Corporate Governance
The fundamental policy is to conduct business activities in compliance with laws and regulations as well as ethical standards in order to earn the trust of customers, shareholders, business partners and all others. To accomplish this, OAT Agrio is dedicated to reaching management decisions in an effective and efficient manner and conducting business activities properly.
Corporate Governance Systems
Based on a resolution at the 8th ordinary general meeting of shareholders on March 20, 2018 to revise the Articles of Incorporation in order to transition to a company with an audit and supervisory committee, the Company was changed on that date from a company with a board of corporate auditors to a company with an audit and supervisory committee.
The purpose of this transition is to establish an audit and supervisory committee under the board of directors to strengthen the supervisory function of the board of directors, further improving the corporate governance system as a means of enhancing corporate value. In order to strengthen external supervisory functions, one external director and three directors who are external audit and supervisory committee members have been elected; this kind of structure has been chosen with the expectation of obtaining valuable input for the sake of proper company management based on their experience in various fields.
We are confident that the current system will lead to thoroughgoing auditing and oversight, resulting in fair and transparent business management at our company.
Corporate Governance Structure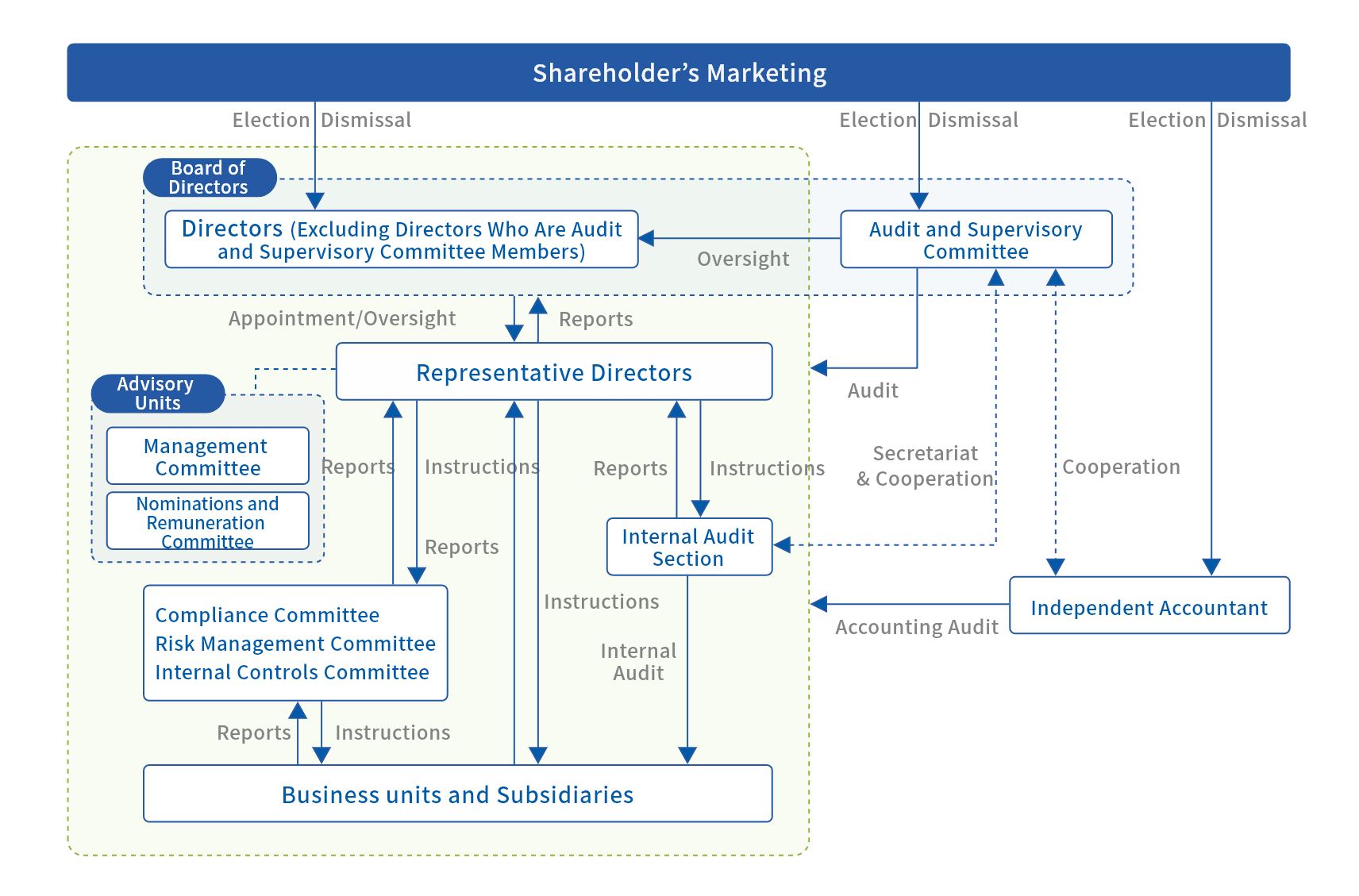 Risk Factors
This section lists risk factors involving the OAT Agrio Group's business activities, financial condition and other aspects of operations that may have a significant effect on investment decisions. Forward-looking statements in this section are based on the group's judgments as of March 24, 2015, the date of submission of the Annual Securities Report.
1.

Changes in the agriculture market

2.

Laws and regulations

3.

Inpairment of intangible asset and valuation of subsidiary stock

4.

Seasonal factors and changes in the weather

5.

Exchange rate fluctuatious
IR Policy
Fundamental Policy
OAT Agrio manages operations with fairness and transparency while disclosing corporate information as needed in a timely and proper manner with the goal of being a company that is trusted by shareholders and other investors.
Disclosure Standard
OAT Agrio discloses information in accordance with the Financial Instruments and Exchange Act and the timely disclosure rules of the Tokyo Stock Exchange. Even information not subject to timely disclosure rules is made public if we believe the information is needed for shareholders and other investors to reach investment decisions.
Disclosure Methods
Corporate information to be announced is disclosed by the order of an information manager on the timely disclosure network (TDnet) of the stock exchange. This ensures that the information is accessible in a timely and proper manner. Other information is disclosed using the same timely disclosure guidelines to ensure fairness and speed.
Silent Period
To prevent leaks of information in earnings announcements, there is a silent period for a designated amount of time prior to each earnings announcement. During this period, we will not make any comments or answer questions concerning results of operations. However, a timely announcement will be made if a significant change in a forecast that has already been made public is required during the silent period.