we will contribute to sustainable agriculture
that is friendly to people and the environment.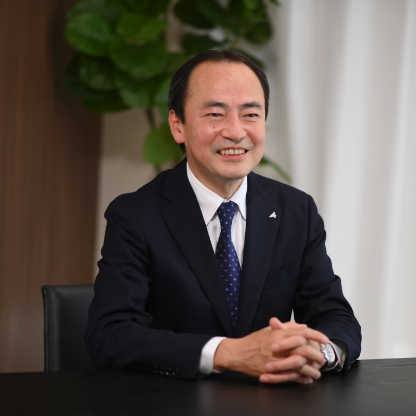 OAT Agrio Co., Ltd. was created on September 28, 2010 following the divestiture of the AgriTechno Business of Otsuka Chemical Co., Ltd. through a management buyout, and the company name was changed into OAT Agrio Co., Ltd. from Otsuka AgriTechno Co., Ltd. on April 21, 2014.
【Our company was split off from Otsuka Chemical Co., Ltd. through management buyout (MBO) on September 28, 2010.】
The population of the world is expected to exceed nine billion in 2050. According to the U.N. Food and Agriculture Organization, global food production will have to increase 70% by 2050. But it will be difficult to increase the amount of cultivated land in the world because of environmental issues.
【The global population is projected to exceed 9 billion people in 2050. The Food and Agriculture Organization of the United Nations (FAO) announced that it is necessary to increase global food production by 70% by 2050.】
According to the declaration of start of "International Year of Plant Health 2020" in 2020, over 80% of foods in the world is derived from plants, and up to 40% is lost due to the damage by diseases and pests. Therefore, FAO mentioned that in order to address important issues, such as famine, poverty, and economic development, it is essential to promote and execute proper measures for protecting agricultural crops from diseases, pests, and weeds. In addition, "Sustainable Development Goals (SDGs)," which were adopted by the United Nations in 2015, include the goal of ending famine, realizing food security and nutrition improvement, and facilitating sustainable agriculture, and we are certain that the new food production growth technologies (agritechnology) which our corporate group is developing with utmost effort, including:
Technologies for protecting crops from insect pests, diseases and weeds
【Plant protection product】
Drip fertilization and irrigation technology
【Fertilizers & drip irrigation Systems】
Biostimulants
will help solve these issues.
By actively incorporating the perspective of ESG (Environment, Social, and Governance) into our business administration and by widely projecting our technologies and product features, we will contribute to sustainable agriculture that is friendly to people and the environment. Our group's corporate activities aim for developing a sustainable future together with our society , that is, realizing SDGs itself.
President CEO
Hisashi Oka