Net sales growth rate :116%
Operating profit growth rate:162%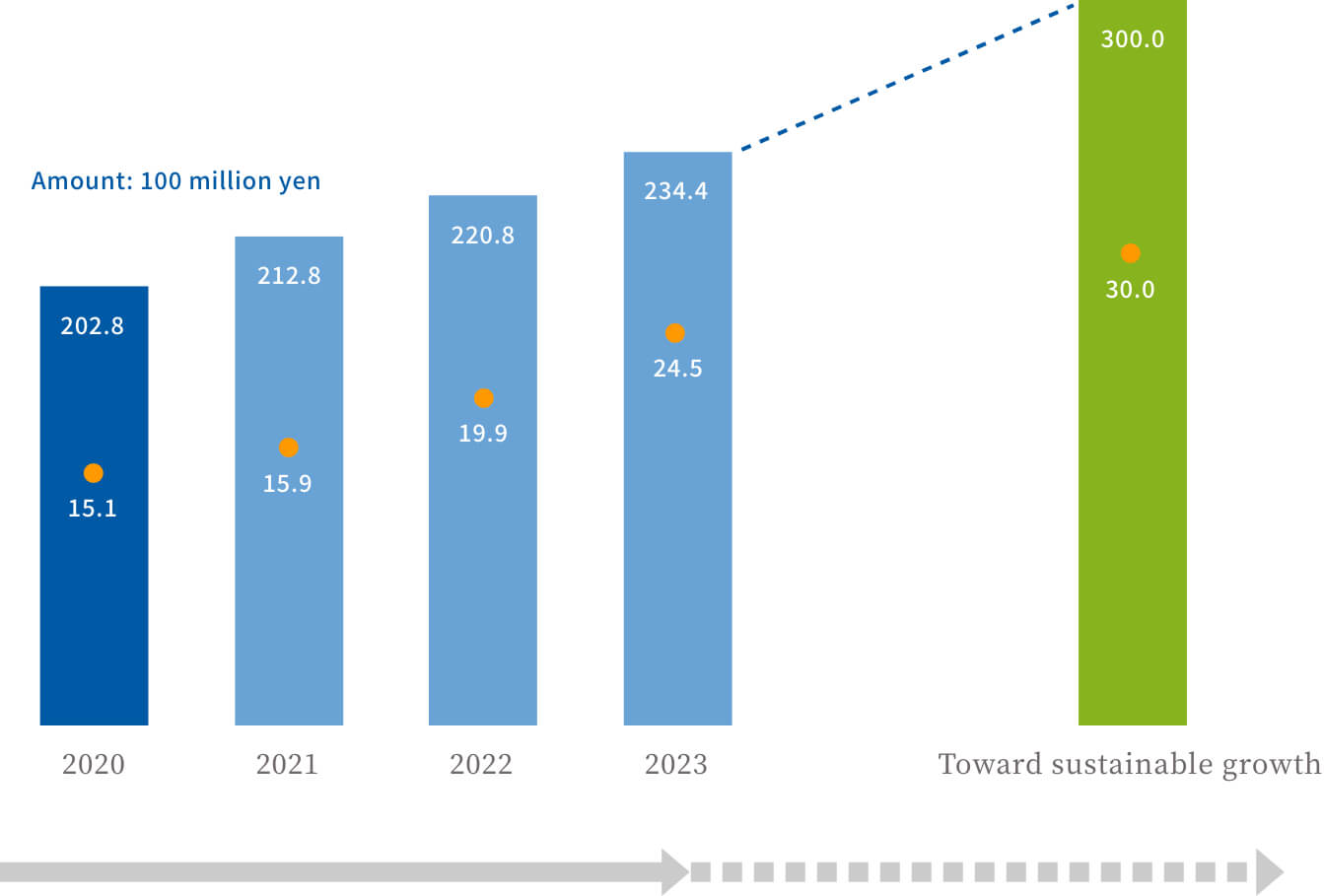 Philosophy and three agritechnologies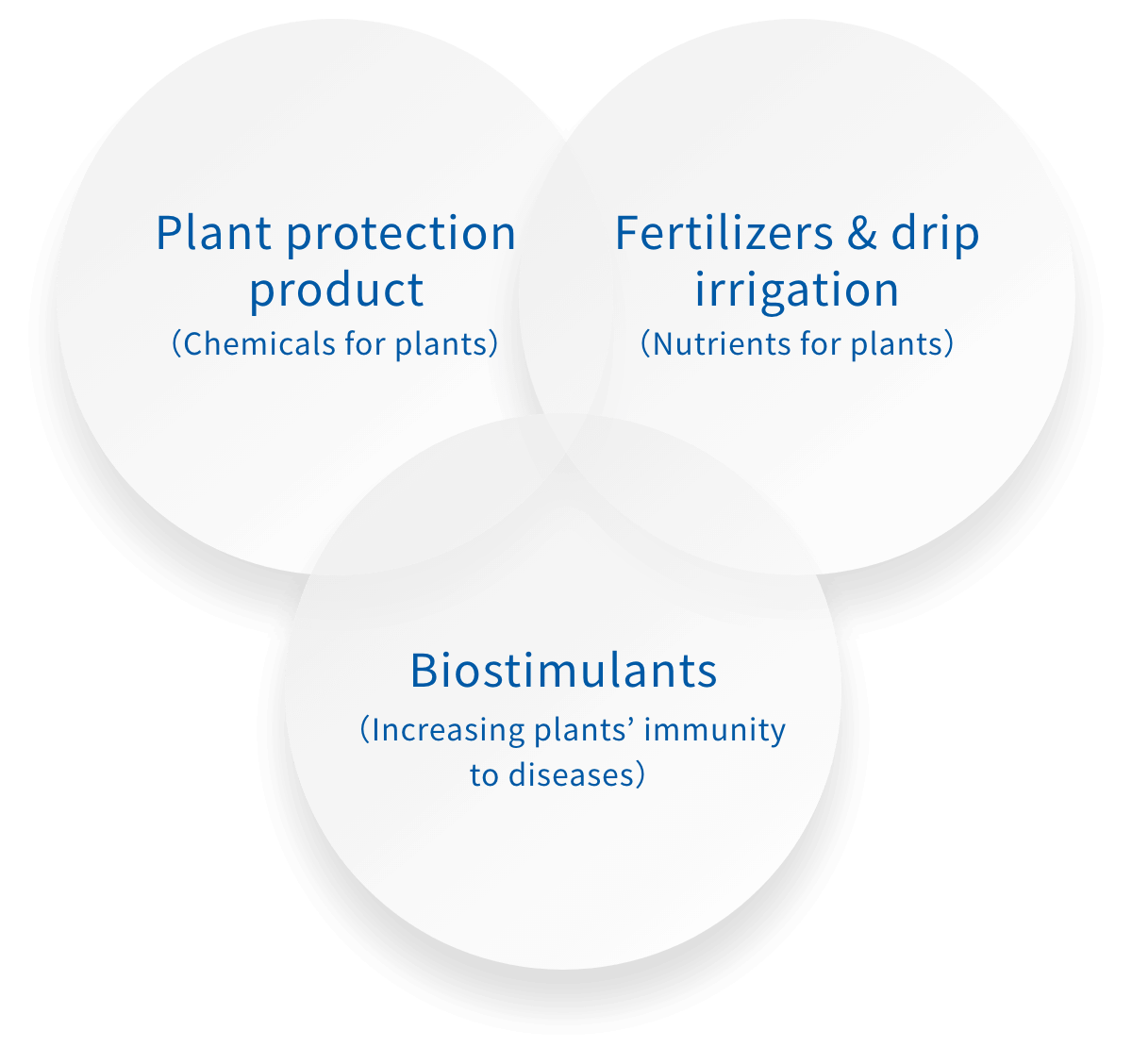 Plant protection product

Research at 2 laboratories (Naruto and India)
To discover new highly safe, effective substances

Fertilizers & drip irrigation

Cultivation technology and fertilizers for hydroponic culture
Largest share in the Japanese market

Biostimulants

Respect for the environment and biodiversity that boosts
the immunity of crops against diseases and pests
Corporate philosophy
To attain the philosophy: "We contribute to the people in the
world with our agritechnology and sincerity"
In accordance with the new mid-term
management plan under the philosophy,
Enhance the initiative to develop a growth driver

Pursue global synergetic effects

Construct a corporate culture and endeavor to launch new businesses
the OAT Agrio Group will concentrate on the following management targets in three years, to get on a sustainable growth track.
Through sustainable growth, we aim to achieve net sales of 30 billion yen, operating profit of 3 billion yen, and R&D costs of 3 billion yen.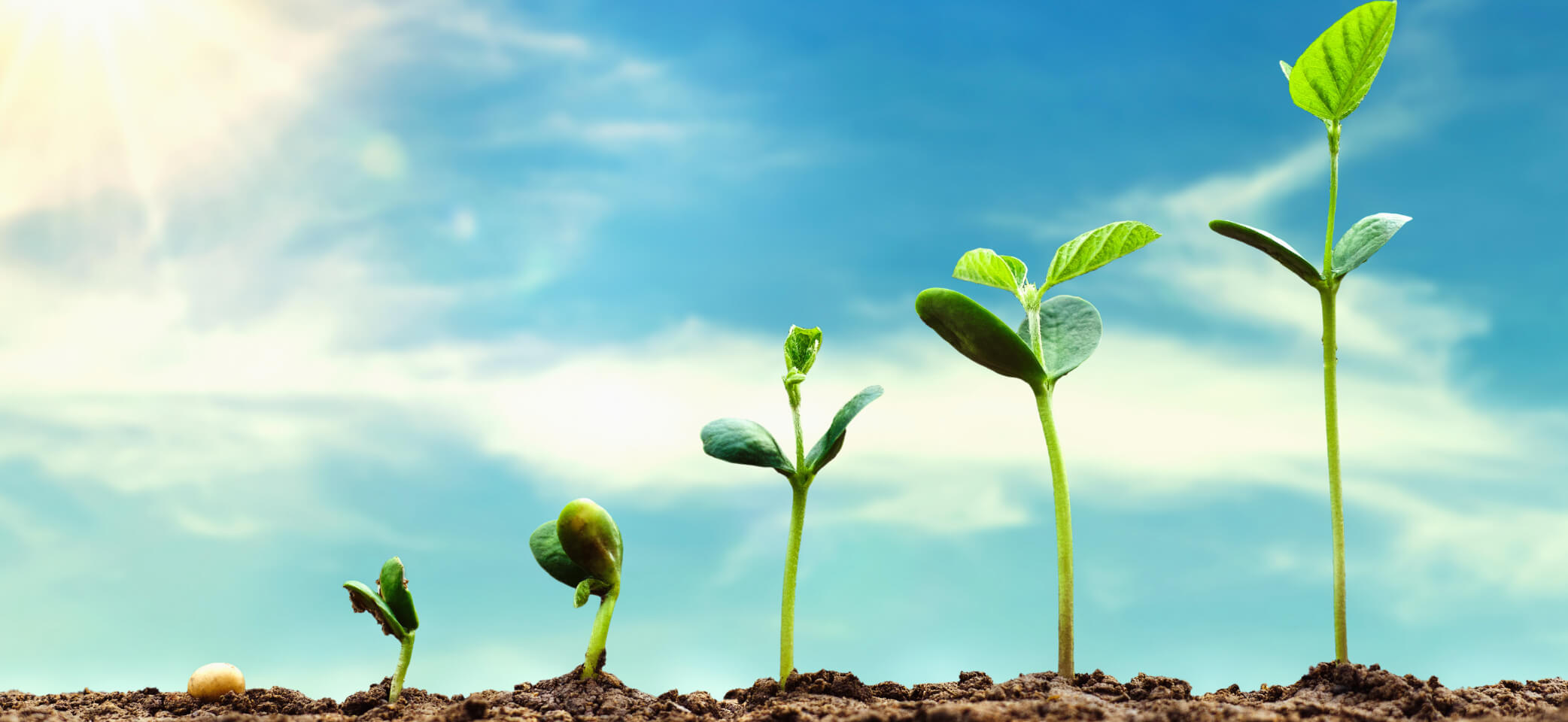 To hone agritechnologies
It is indispensable to
grow food production.
Acquisition of resistance against chemicals through the use of agrochemicals
Out of about 1,000 companies, a couple of dozen agrochemical makers in Japan, Europe, and the U.S. engage in development of new agrochemicals.
Development of new chemicals
Plant protection product
Mass consumption of energy
Global warming and local climate change
Augmentation of stress on crops
Enhancement of immunity of crops Biostimulants
Destruction of nature
Desertification, salt damage, and water pollution
Degradation of 30% of soil around the world
Minimum water and fertilizers
Fertilizers & drip irrigation
ESG management/CSR: Important issues and execution items
ESG
Important issues
KPI
Related SDGs

E


En-viron-ment
Reduction and recycling of waste
Reduction of waste and plastic trash
Reduction of production loss
Practical application of recycling of industrial materials

6.3、6.4、7.2、11.6、12.5、14.1、14.3
Use of renewable energy and reduction of emissions of greenhouse gases
Promotion of use of renewable energy
Management of emissions and water discharge
Management of consumption and discharge of water at factories

S


Social
Labor environment
Safety of workplaces with no accidents

4.4、5.5、8.5、8.8、10.2、10.3、12.2
Quality of products
Strengthening of the quality assurance system
Personnel affairs
Production of new workstyles and evaluation systems, observance and promotion of the Act on the Promotion of Female Participation and Career Advancement in the Workplace
Training and development of personnel
Support in obtaining qualifications and training under each theme
Supply chain management
Establishment of a distribution system and responsible procurement of materials

G


Gover-nance
Corporate governance
Tightening of governance and internal control, securing of management transparency by disclosing information, and promotion of stakeholder engagement

12.6、16.7、17.16、17.17
Risk management
Uniformity of IT
Compliance
Promotion of compliance, maintenance and renewal of ISO9001 quality management
The OAT Agrio Group actively engages in ESG management, including "environmental conservation" and "diversity."
OAT Agrio Group's efforts to attain SDGs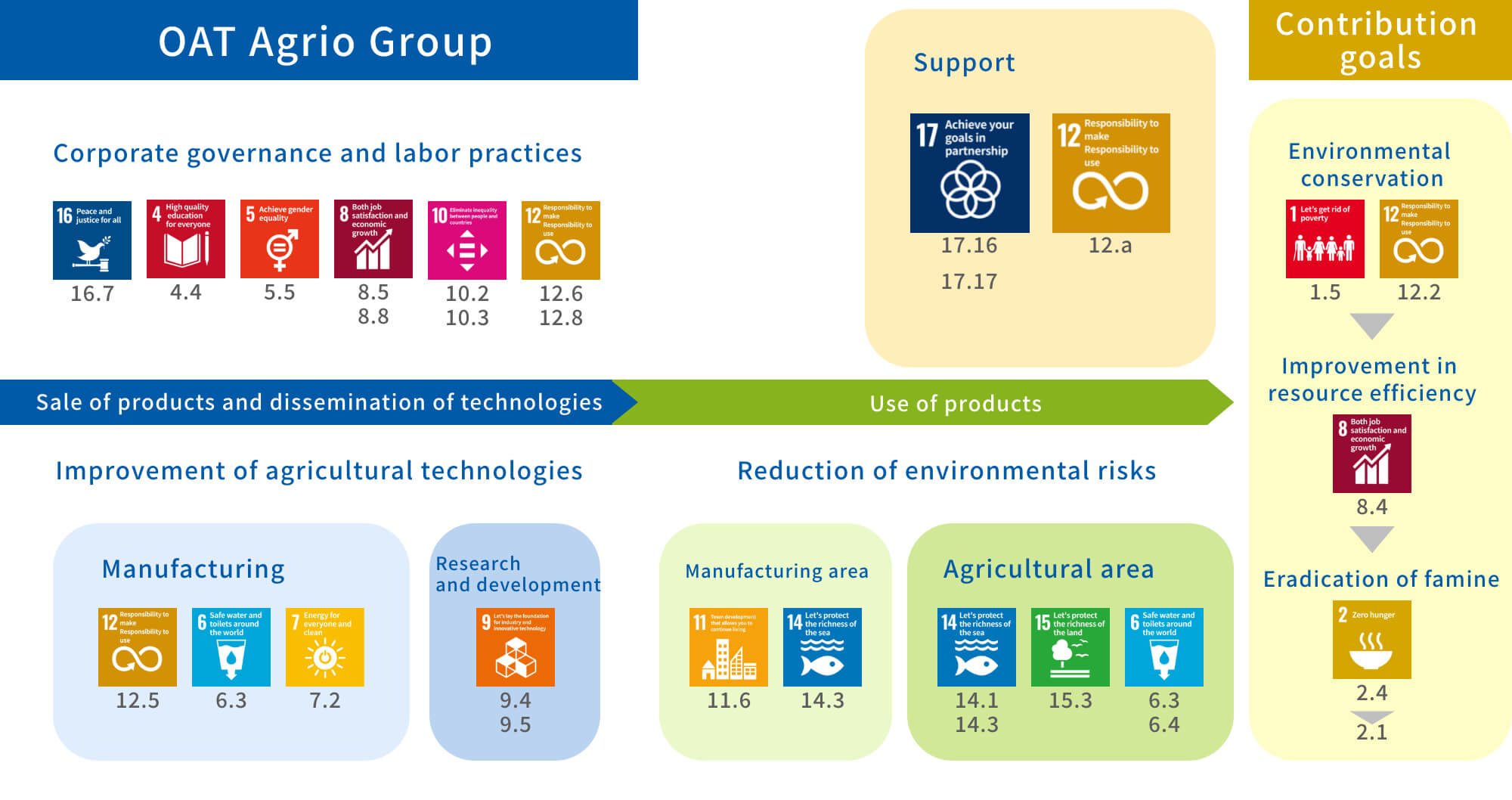 The business activities themselves of the OAT Agrio Group are the initiatives for attaining SDGs. The dissemination of "agritechnology" will lead to "environmental conservation," "improvement in resource efficiency," and "eradication of famine."
Roles of OAT Agrio
In order to actualize the "philosophy," the OAT Agrio Group will disseminate "agritechnology" broadly in the world through "cultivation."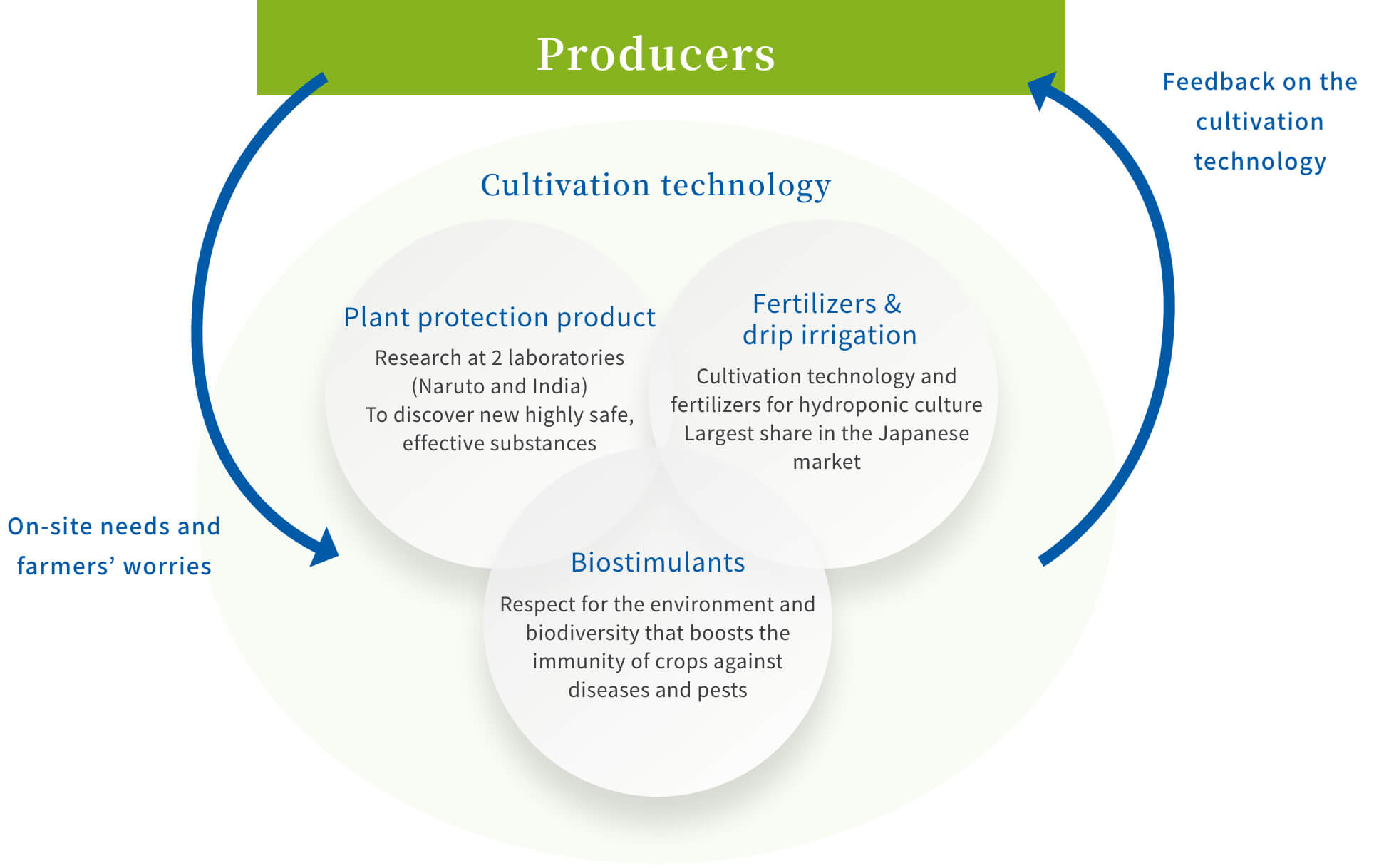 Ideal state of OAT Agrio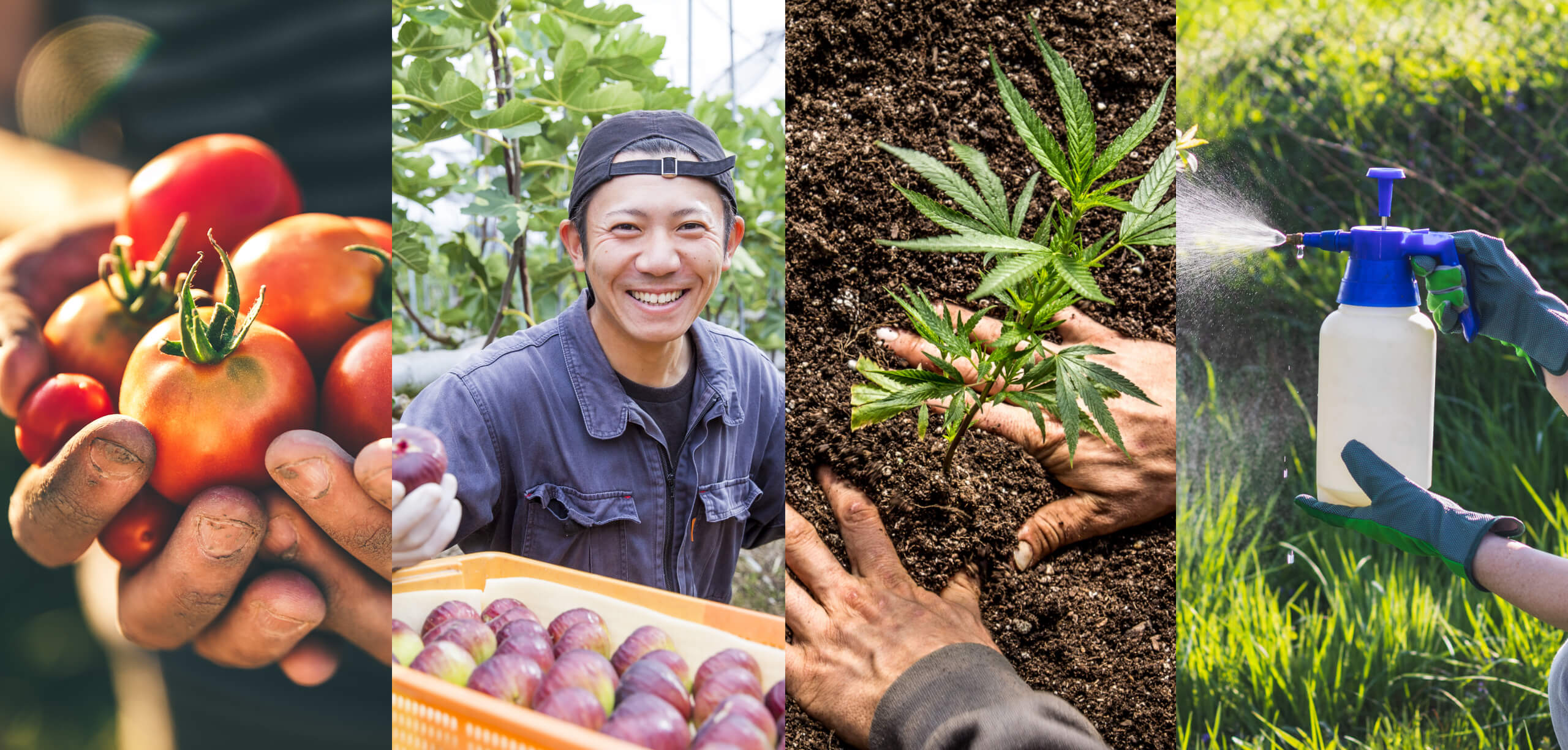 In our company, employees, too, engage in cultivation for disseminating agritechnology around the world.